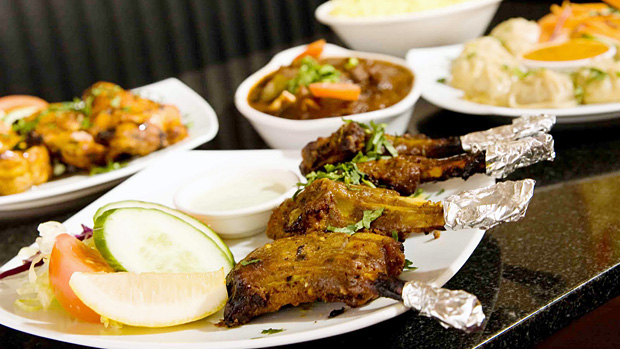 What is definitely worth tasting on the Everest Base Camp Trek?
At some point during the Everest trek and during your time in Nepal, I definitely recommend tasting the traditional Nepalese food Dal Bhaat which is made from boiled rice with a special sauce and vegetable. There are many variations on the Dal Bhaat filling and its taste will depend on the landlady's ingredients. Dal Bhaat is eaten with your hands. It's a nourishing, natural and tasty food.
Garlic soup
Garlic soup is recommended by trekking guides as a natural means of avoiding altitude sickness. It will help you to acclimatise to the mountains better. Garlic soup has an interesting taste and together with Tibetan bread or Chapatti will provide you with a light refreshing meal.
Yak steak
Yak steak. The Everest Base Camp Trek or Annapurna Circuit Trek is the true place to sample a Yak steak. Before you order, ask your guide or bearer to consult the kitchen about how fresh the yak steak is, so that you can be sure you will truly enjoy it. An absolutely perfect yak steak is served at the "Xanadu" guest house in Jomsom village on the Annapurna Circuit Trek. A cosy dining room is located on the second floor of the guest house from where a fantastic view of the summit of the Nilgiri (7,041 m) opens up. The landlady will first of all lay a newspaper on the table so that you can open it before you, at which time she will serve you with a sizzling and crackling yak steak on a hot pan. Only now does the purpose of the newspaper become clear – we hold it open, until the hot steak on the pan "calms down" slightly. Yak tastes great and you're overcome by a feeling of a paradise as you gaze at the Nilgiri glistening in the sun.
Yak cheese
Yak cheese. When trekking, in many places you'll see signs with the text "Yak cheese". Since yak mainly graze in the mountains at altitudes ranging from 3,500-4,000 m (it's too hot for them further below), the Everest Base Camp Trek or Annapurna Circuit Trek provide you with a great chance to enjoy cheese made from yak milk.
Tsmapa porridge
Tsmapa porridge. Tsampa is a local crop grown in the mountain regions of Tibet and Nepal. Tibetan bread and Tsampa porridge are both prepared using Tsampa flour. I've enjoyed the tastiest examples of both on the Annapurna Circuit trek stage from Jomsom to Kagbeni. A portion of Tsampa porridge costs Rs 60-120.
Tibetan bread
Tibetan bread. This will remind you of the thick base of a pizza and is grain bread prepared according to Tibetan kitchen traditions. Tibetan bread is served as a side dish with soup or a dessert together with honey or jam.
Read more about Everest Base Camp Trek:
Eating during an Everest Base Camp Trek
Food for an Everest Base Camp Trek