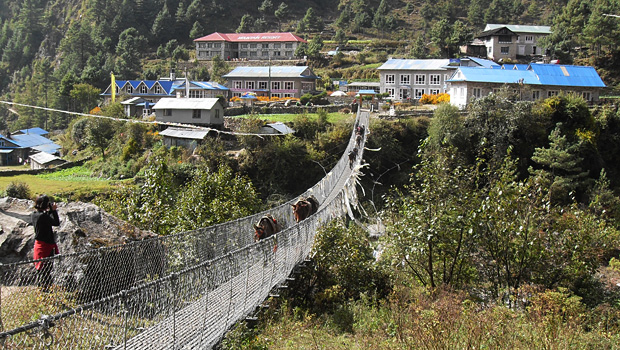 Which is the best season for trekking in Nepal Himalaya?
Treks can last from two days to a month or more, and the first consideration will be to choose a trek that fits into your available time.
You'll also need to strike a balance between the period of best weather for the area you wish to trek and the crowds the good weather attracts. The traditional trekking season in Nepal Himalaya is October to May, with October and November recognised as having the best weather for trekking. This is also the high tourist season in Nepal. At this time flights and hotels are fully or almost fully booked, and trails in the hills can be horrendously busy.
During this autumn high season the nights are cold in the mountains, but the bright sun makes for pleasant daytime temperatures -up to about 30°C, falling to 5°C at night, between 1000 m and 3500 m. At higher altitudes temperatures range from about 20°C down to -10°C. Mornings are usually clear, then clouds build up during the afternoon, disappearing at night to reveal spectacular starry skies. During winter it is about 10°C colder. There are three excellent times to trek when you will often have camp sites or lodges to yourself and can usually rely on good weather. These little-known trekking seasons are the first two weeks of December, the entire month of February, and the second half of September.
Early December sees a lull in tourist arrivals, but the skies are usually clear and this is a good time for trekking in Nepal. The Christmas period is cold, but this is the holiday season, and Japanese and Australians arrive in droves and fill up flights and hotels through to the middle of January. High passes, especially Thorung La Pass (5416 m) on the Around Annapurna trek, Ganja La Pass (5122 m) in Langtang and Laurebina La (4609 m) on the Gosainkund trek are usually closed from mid-December to late February, as are treks to the remote regions of Dolpo, Mustang and Humla. February is still cold, although less so as the spring (March-April) trekking season approaches.
Because most of the precipitation in the Himalaya occurs during the summer monsoon there is less snow on mountains and many high trails during winter. Everest itself is a mass of black rock during the trekking season, becoming snow-covered only during summer. There are always exceptions to this weather pattern, so be prepared for extremes. Winter snowstorms in December and January may make an early-spring pass crossing difficult and can often present an avalanche danger, especially on the approach to the Annapurna Sanctuary.
The Middle Hills, especially around Pokhara, are dusty and hazy in April and May, but the high country is usually clear. Trekking tapers off in the heat of May, except at high elevations. The monsoon season from June to September is a good time to visit Kathmandu, but there are few trekkers around. A monsoon trek can be a great experience if you are willing to put up with the rain, leeches and slippery trails. During spring, there can be sudden violent thunderstorms accompanied by high winds that blow down trees and tents and cause streams to swell.
Read more about Everest Base Camp Trek:
Organized Treks in Nepal